About Seefin
Seefin is a string trio who compose inventive, unexpected blends of music, with a unique feel that's infused with the influences and rich colours of Irish and European styles.
With glimmers of classical, traditional and an improvisatory feel of jazz, Seefin create a music without boundaries. Informed by land and seascapes encountered on their wanderings, their music elicits the freedom to linger and savour open spaces and isolation. The group features the distinctive musical talents of Brendan Popplestone (guitar and vocals), Sherry Robinson (cello) and Niall Lynch (violin).
The band play original music almost exclusively and find that playing and collaboratively arranging each other's pieces pushes them further into new territory. While Brendan and Niall use local landscapes to inform their compositions, Sherry's music is inspired by the landscape of legend and stories from long ago.
With an evocation of a sense of place, Seefin bring a heartfelt sense of connection and reflection to a wide range of occasions, events and celebrations.
Seefin are very keen to share the experience of what they create with as many people as possible: you can find details of upcoming performances here. If you'd like to arrange a performance or just get in touch, please visit our contact page.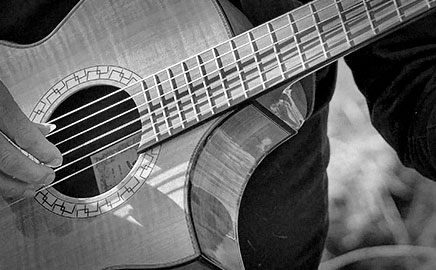 Brendan Popplestone
GUITAR & VOCALS
Brendan Popplestone has earned his crust entirely by playing music since 1994. Much of what he does with his musical muse is coupled with a strong social conscience. This has led to Brendan sharing music full time in some of society's supposed darkest places: prisons, psychiatric wards, hospitals and other care settings – bringing light and happiness in. Brendan has concurrently created a large body of musical work which reflects his day-to-day experience and his take on the world.
In the recent past a collaboration with Sherry and Niall has offered a new opportunity to produce a very special take on a shared love of the local, landscape and culture and the music of Seefin deserves to be enjoyed by more than this trio.
The landscape of the Mournes has been one of his great loves since childhood, with his earliest memories being of watching the moon rising behind Commedagh and of being lifted over a snowdrift below Meelmore.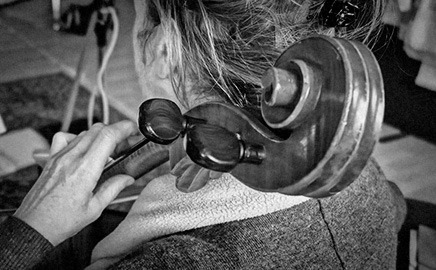 Sherry Robinson
CELLO
Trained in Fine Art, Sherry worked in education and community arts in London for many years. During this time she studied cello and played in an eclectic mix of ensembles ranging from pure improvisation with the London Musician's Collective, to classical, traditional, Latin American and European folk. She worked with an array of performance artists, poets, dancers and a sculptor.
Working with the performance storyteller Xanthe Gresham Knight, Sherry devised music for folk and fairy tales, legends and epics from around the world, performing in London schools, theatres and festivals.
Recently returned to County Down Sherry has, through the music of Seefin, been revisiting and exploring the landscape of childhood and the mountains of Mourne: "An unexpected joy to share the love of this land through melody, chords, improvisation and laughter." >>
>> Commissions with Xanthe include Chagall (Word in Edgeways Festival) and from the British museum (1998-2008) performances for family audiences: The Epic of Gilgamesh, Inanna Queen of the Night, The Shahnameh, Albrecht Durer, Coyote the Trickster and a Shakespeare programme – The Tempest, Winter's Tale and Merchant of Venice."
With the performance storyteller Ben Haggarty, Sherry has devised music for 'Grimm Grimms' (some of the lesser known and darker Grimms' Fairy Tales commissioned by Orchard theatre London.) Gigs since 2014 include London Soho Theatre, Oxford Hollywell (as part of the Lieder Festival), York and Barbican Black Box theatres, The Forge Camden, Cranbourne Earth House and Utrecht and Zwolle Festivals Holland, Autumn Tour 2020 including Northern Stage Newcastle, and King's Place London.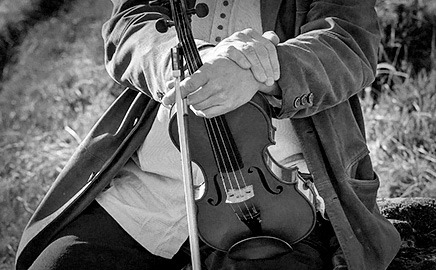 Niall Lynch
VIOLIN
A classically trained musician, Niall has had a career based around performance and education. He spent a number of years in London and Italy playing the Opera, Ballet, orchestral and chamber music repertoire. Since returning to Ireland he has continued to perform, alongside teaching music to students of all ages. He coaches and conducts string ensembles and is a regular conductor of the Belfast Bach Consort. In recent years Niall has been exploring the world of folk and jazz music – particularly Gypsy jazz and contemporary.
Niall has a great love of hills and mountains and the Mournes in particular. He has walked and climbed over their peaks for many years as well as venturing further afield to the mountains of Scotland and the Alps.